Today I have been looking if there was a specific recent DfE published statement about teaching about sexual orientation (and Gender Identity) that I wasn't aware of. There isn't one as far as I can see given that the Safe to Learn Guidance (on Homophobic Bullying and Sexist, Sexual and Transphobic Bullying) were pulled by this government. Sexual Orientation is included in the SRE guidance (but Gender Identity is not) and I have already blogged about the issues with that document, but at least it tries to be inclusive in places (apart from the "it is not about promotion of sexual orientation- that would be inappropriate teaching" caveat) But as far as I can tell there is no further official document since the 2000 document in place. However MP Stephen Williams wrote to DfE back in June on this issue he received this response which he tweeted today.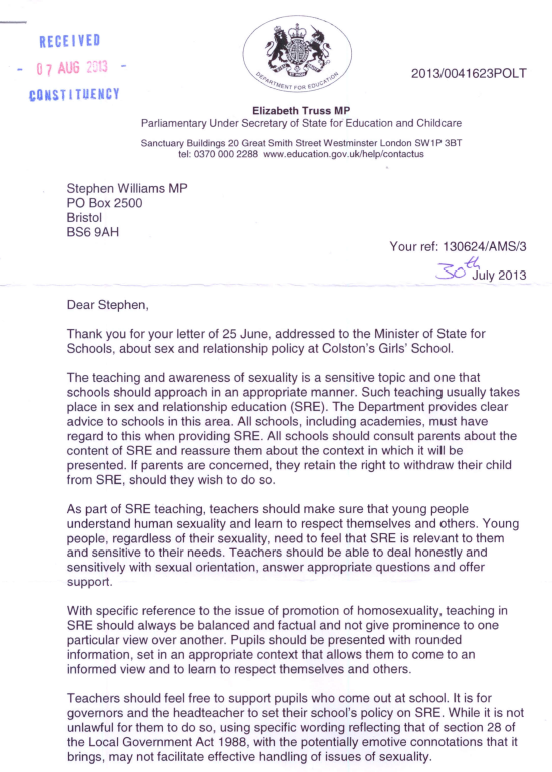 and given current government comment in this article and this article. I think we know where the government responses will be in coming days and weeks. They will claim they were clear all along (they were/are NOT) and that the individual schools are to blame for these policies when actually it is their systematic failure to include sexual and gender diversity within policies and the curriculum that has left schools in this mess and it is unfair to now pass the buck to the individual schools.
However I am very hopeful this will create the clear motivation and political will to change this for the better and properly include guidance for teachers and schools on how to properly and appropriately support and include students whatever their identity, and overall improve SRE guidance to include issues such as talking about consent and pornography which are current issues for young people completely omitted from this 13 year old document. Of course there is also the possibility things could end up worse, in terms of existing legislation and guidance and we must do everything in our power to stop that from happening.